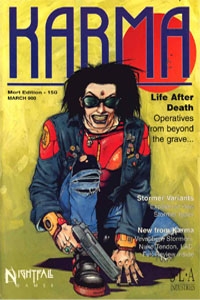 Karma displays its power and might upon the World of Progress with the release of its annual supplement. During the celebrations of 900 SD, Karma unveils the secrets and products of its advancements, the technology to achieve Life After Death, to manipulate, advance and configure the anatomy, to create new life in the form of the Chargrin and the Xeno – two new variants on the Stormer Race – and the Vevaphon – biogenetic polymorphic operatives that have taken the media by storm.
Karma also details the heart of Stormer products, the planet Artery and the institution that funds it – Phantom Pregnancy – and the introduction of a controversial squad that binds the two rivals Dark Lament and Karma: Media Darlings Symbiote.
Karma presents an image of glamour, innovation and productivity; it entices the operative society and feeds its needs. But even in the fast paced World of Progress, replication has its price… SLA Industries is renowned for its stylish and lavishly illustrated books, and Karma is no exception. Presented in a catalogue style from one of SLA Industries' most powerful divisions, this sourcebook presents a huge range of new options, equipment and background for the game.