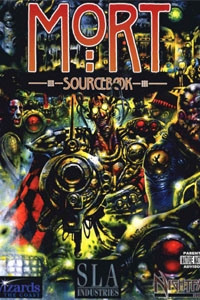 Mort, a city that hides a million sins, holding secrets and places that should never be known. Mr Slayer sits in his office in Central, looking out over his city. From clean, residential Uptown to filthy, stinking Downtown and the nightmare Cannibal Sectors, Slayer's throne sits safely isolated in a city of extremes.
This guide will tell you where to be seen, where not to go, and what to expect when you get there.
Tourists, employees and citizens alike will find this book almost as useful as having their own Operative bodyguard. You never know, it might make serving SLA Industries a little easier too!