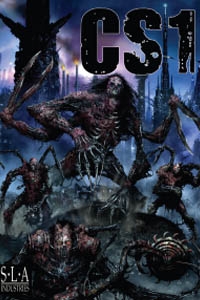 A Tide of Darkness. A Realm without Light. The Failure of SLA Industries
Outside the walls of Mort city is an environment that nothing should be able to survive in and yet it does, from the cannibals and carrien, to the manchines and the scavs, some of the greatest threats to SLA industries lie just outside its walls.
This book for SLA industries covers all the things that operatives are likely to find within Cannibal Sector One, the most dangerous of all the sectors. This book has a full listing of new training packages, new hazards, listings of all the creatures in the sector, new rules and errata, and optional rules for playing lower level campaigns as well as guides to how to best capture the atmosphere of SLA industries.